Basic mobile advertising technology
---
Basic mobile advertising technology - FDH.cloud
New technology interaction opportunities come daily. It seems like just yesterday the mobile devices got familiar with Bluetooth technology and today it gives us an opportunity to create a full service (high-quality service) advertising campaigns! Today we have beacons that are small Bluetooth based radio signal transmitter. This simple device is broadcasting signals repeatedly to be seen by other devices around of them. For retail marketers using beacons means reaching the right person at the right time with the right message. And this is the basics of every business success story. The most common purposes at the moment in order to use beacons technology are marketing and loyalty drive. Here we'll mention one of the ways of BLE implementations in creating a successful advertising marketing campaign.
Tips for launching your first mobile marketing campaign
First a whole, I would learn more about the mobile advertising segment and its opportunities.
Mobile advertising differs from all other ad formats including the standard "printed" marketing approach. Digital technology allows you to receive feedback from the user, and generate statistics out of this information. Using this feature, you can accurately coordinate your actions in promotional offer settings.
To launch an advertising campaign on the mobile you have to start with choosing the proper platform. FDH.cloud has been already set up for this. Dozens of different BLE beacons passed assembly quality, signal strength, and climate change battery resistance tests. Therefore, only two manufacturers were identified, and the entire platform is based on their capabilities. Recently, it has become possible to connect Sticker and Video Beacon, that significantly expands the activity area.
When you chose the beacon and learn its characteristics, it is important to remember that the BLE device has a very sensitive range feature, what makes it indispensable for the individual broadcasting of the advertising messages. So, the radius may vary up to 60 meters at the outside.
You can make the order on the same page, where you see the beacon's characteristics and its estimated battery life. Once you chose the desirable number of beacons you can complete your payment process for the service.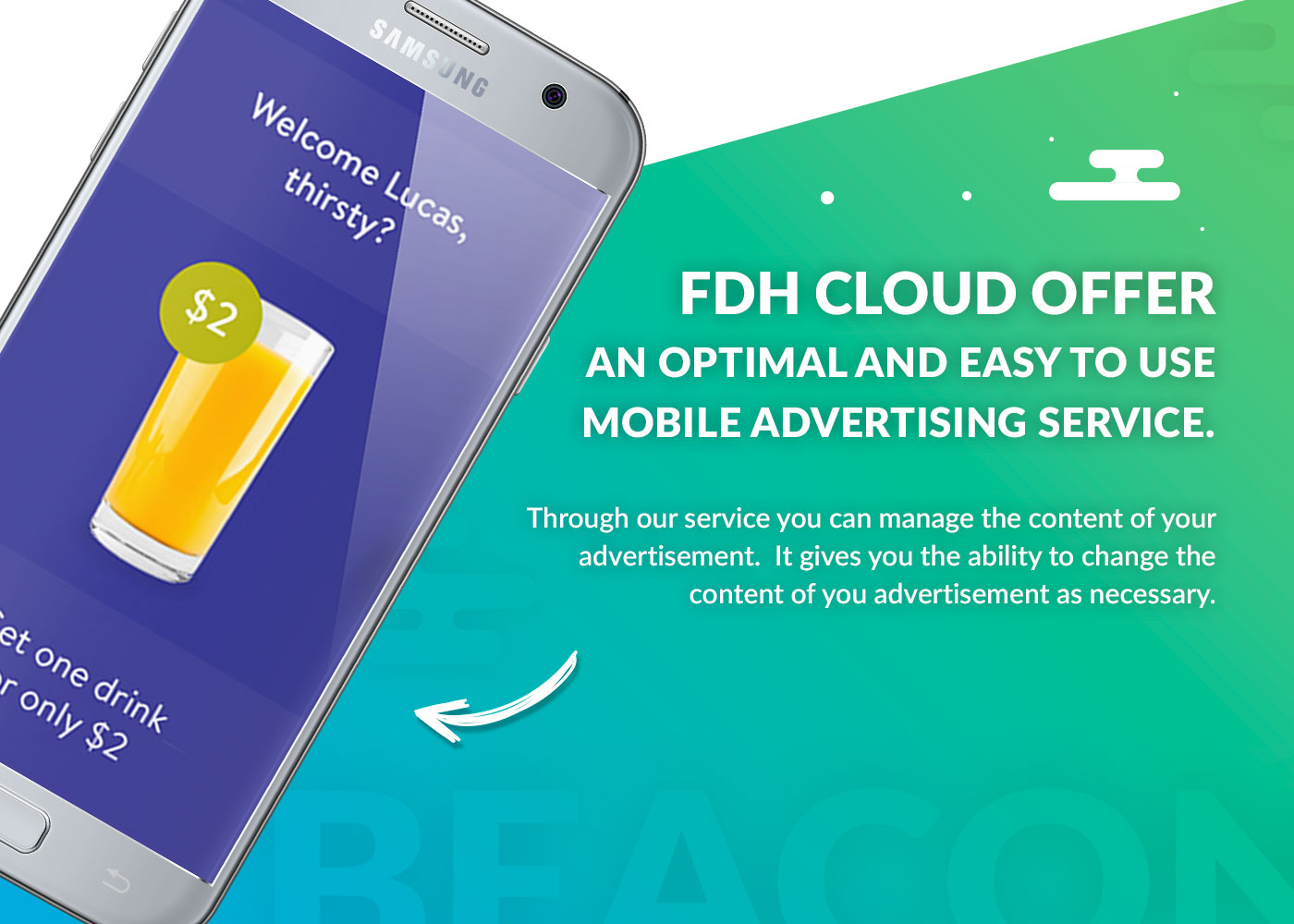 *What is the fdh.cloud advertising platform: it is the Front Desk Helpers Co proprietary platform based on Google cloud technology. This platform allows BLE and mobile devices interactions (4.0 Bluetooth version and higher)